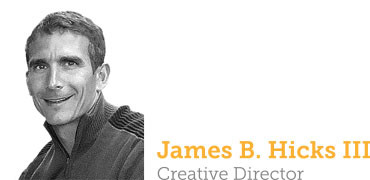 Whether you need a simple design tweak, creation of a new graphic identity or larger scale project development, JBH3 Graphic Design can tailor our design abilities to match your needs. We can produce a one-off design project or sign on for recurring ventures. We are here to simplify your design needs without complicating your work space or bottom line. 
With our superior customer support across town will feel like across the hall. 
For the past 13 years, JBH3 Graphic Design has provided concierge graphic design services to clients across the nation. Our one on one approach to client needs has proven successful time and time again. 
It takes many hands to make a successful company run smoothly. Our creative director, James B. Hicks III has formed a talented team to handle both the creative and business side of the company. He has selected top notch printers and vendors across the country to ensure that the products JBH3 delivers to it's clients are of the highest quality.